Excited to launch a new website design for Health Extensions, a beautiful med spa located in Stuart.
Health Extensions awarded us the website redesign, even though they just launched their prior website. The owners came to us upon a client referral (we love client referrals!) because were frustrated with their prior company.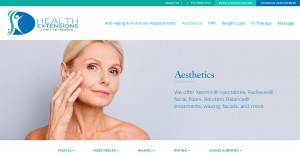 We understand that the services that Health Extensions provides is very personal and want the user to feel comfortable enough with the spa to schedule an appointment. The design is simple but easy to navigate and has enough content to answer immediate questions a visitor may have.
Health Extensions' clients can easily schedule an appointment online via the Vagaro link on their site. Users can view the interior of the spa before setting an appointment, and learn more about the spa and its services.
Health Extensions is located in Stuart and brings the latest in wellness, weight loss and cosmetic procedures set in a warm and decadent spa environment. Their clients are given an insightful, no-obligation look at what treatments they would most benefit from and the results to be expected.
If you're not happy with your existing website provider, please give us a call. Our consultations are complimentary and we'll take a fresh look at your brand, research your competitors, and provide recommendations based on your current industry.
~TOVO