Happy to announce a new website launch for Pb2 Associates, a wood flooring and material broker located in the Palm Beaches.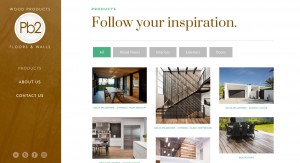 Pb2 Associates, Inc. is a design driven company since 1990 focused on the catering of Wood Products to the Architect & Design Professionals.
Their wood floor products include flooring, walls, exteriors and doors. Their main goal is to build a network of partners that specialize in quality products that we can work with and earn the respect and trust to supply their every wood product need.
The custom design is image-heavy, mobile-friendly, and uses a categorization tool to help website visitors sort through the manufacturer's photo gallery.
We provide custom branding, website design, and graphic design for manufacturers. Contact us to learn more!