Last month, Google announced that they will be pulling personal reviews from around the web and showcase them on Google's company pages. Many profiles have already been integrated with web reviews, as seen here: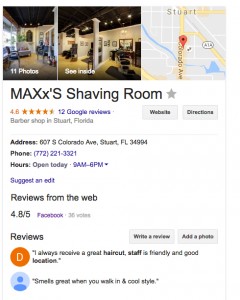 It will pull up to 3 review-type websites and calculate an aggregate rating score from the sites. These online personal reviews will be placed above critic (product-type reviews) and best-of lists.
Through online comments, businesses are able to engage with current and past clients, while keeping a positive rapport public for potential clients to view. Online reviews are now of the utmost importance and must be maintained and engaged on a regular basis.
A few of the personal-reviewing websites that will be pulled into Google's From the Web reviews are Yelp, Trip Advisor, Angie's List and Facebook. Note that Google will continue to place more importance on it's own Google+ reviews. (2)
According to Mila Hose at Brandify, "Google acknowledges that consumers care about a brand's reputation on trusted properties outside of the brand's own site, and it will give this information prominent placement in the organic search results". (1)
Why is this important to your business? 
For the businesses who have a strong reviews across the web, this will help in terms of ranking and showcasing positive comments. However, for businesses who do not have many online reviews (or they're negative), this could be detrimental to your business by potentially driving away traffic to your site or store.
How do I manage my online reviews?
Customers are getting more comfortable leaving online reviews for both positive and negative experiences. It's important to give your satisfied customers the opportunity to praise your service or product online:
1) Claim your online profiles on review websites and start guiding your clients to leave reviews.
2) Respond to existing reviews As you know, negative reviews should be responded to with kindness and professionalism while maintaining high integrity. How a business responds to negative reviews is just as important than the negative review itself, as the owner has the opportunity to response to criticism with poise and composure, as opposed to hostility.
3) Continue to monitor and manage your profiles and reviews. Upload your business logo to create brand consistency across the web.
4) If your business has many negative reviews, work on getting positive reviews and increase content marketing on your website. In time, negative reviews will get pushed of the first page and fresh content will replace it.
Contact our team today for a complimentary review of your online brand consistency. We can help you build your brand across the web.

(1) blog.brandify.com/everything-you-need-to-know-about-googles-reviews-from-the-web
(2) localvisibilitysystem.com/2011/11/28/9-known-ranking-factors-of-reviews-in-google-places/