It was a pleasure to be featured on WSTU 1450 radio with Frank Mezzapelle.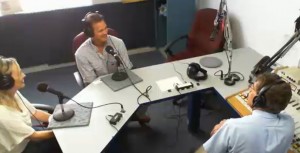 The Wednesday afternoon segments highlight businesses that are members of local networking group, MCBE. The organization was established over 30 years ago and is still going strong.
We discussed several topics of our personal and business life, and had a lot of fun doing it!
Background. Shane and I met while working at a manufacturing corporate office in West Palm Beach back in 2000.
Education: Shane earned his B.S. in Mass Communications with a minor in Marketing from St. Cloud State University, Minnesota. I received my B.A. from Michigan State University in Architectural Design with a focus on Computer Science. I also earned my PMP certification (Project Management Professional) in 2011.
What is TOVO? TOVO is an acronym for our sons' names. We're fortunate it's one that actually can be pronounced!
Sports: We are proud supporters of youth sports. Shane coaches football and baseball in our local community. Teaching today's youth good sportsmanship and character-building skills is our way of giving back to our young people.
Business: Our clients range from large corporations to small businesses. We can be an extension of a marketing department and can provide a fresh look or new campaign for product launches or brand awareness. Our team consists of talented graphic designers and developers, most from South Florida.
Services: We work in both print and interactive (web) mediums. We consider ourselves a Full Service Branding Agency. Our services include:
-Corporate Identity: Logo, Branding
-Interactive: Website Design/Development, Email Marketing, Digital Ad Campaigns
-Collateral Design and Print: Presentation Folders, Brochures, Trade Show Graphics and Booth Design, Annual Reports, Cut Sheets
-Search Engine Optimization: On-Page SEO, Directory Optimization, Analytics
Rover: We mentioned Rover, our website management division. We maintain clients' websites by providing data backups, content updates, analytic reporting and an annual SEO review. Learn more about Rover here: https://rovergo.com.
Watch: Watch and listen to our broadcast here. 
Contact: Businesses of any size may contact us at 772-232-6450 or send us an email for a complimentary consultation and quote. We look forward to learning about your company and how we can help you achieve your marketing goals.
Shane and Sandi O'Brien