As 2014 draws to an end, the web design industry is already starting to see trends that are on the horizon for the upcoming year. Some of these emerging practices may even change the way websites are created.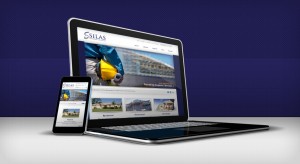 Every year there are a few user design trends that take off and it can seem like they are on every new site being designed. Most of these will go out of style as fast as they grow to popularity, but there are always some that stick around and change the world of web design. The following trends that have this sort of effect heading into 2015 seem to be driven by speed and simplicity.*
Importance of Speed and Simplicity Online
Google has been making the speed in which a web page loads a larger part of its search algorithm and for good reason. The speed of the site affects the bounce rate of visitors and also can reflect the engagement of users while on a website. While speed usually ranks somewhere behind aesthetics and user interface, its importance is beginning to change the way sites look and feel.
Simplicity is the goal of many emerging web designers due to the results it tends to yield. Figuring out the purpose of a website or web page is crucial in making a design that works for both the user and the site itself. With this in mind, two of the biggest ways speed and simplicity are making their way onto the scene is through flat web design and a refreshed emphasis on a responsive (mobile-friendly) layout.
Flat Web Design
One of the biggest trends that increases site speed and is sure to continue into 2015 is "Flat" website design. In the mid 2000's, websites using flash elements, gif animations, and various textures were very popular but not always compatible on all platforms and browsers. Now, the design and development trend is moving toward a more streamline, yet beautiful, interface.
Flat web design is simply a straightforward way to make a web page beautiful. Some key elements of flat designs include larger typography and simple pictures. Also, designers are moving away from artificial textures and shading effects. This reduces a page's load time while increasing the usability of the site by making the content easier to understand and navigate.
Responsive Web Design and Development
This term has been thrown around for a few years among the website development industry. With the rapid increase in the number of mobile devices, it quickly became necessary for websites to shift size to suit the user's device, making the site simple to use no matter the device used.
It seems that this necessity is taking a new form as we gear up for 2015. Before, a responsive website had to resize a Smartphone, tablet, laptop, or a PC. This next year is shaping up to be the year that wearable tech, larger phones, smart TVs and appliances will change the technology market— and the way we interact with the internet forever.
At least half of all eCommerce shoppers will use a mobile device in the coming year to purchase goods. The need for responsive design in an eCommerce setting is crucial for a positive shopping experience and will reduce shopping cart frustration.
We're here to help. The team at TOVO specializes in responsive website design, responsive eCommerce website design and development, and Flat designs that are fast to load, simple and easy to navigate.
If you would like to learn more about how our company can assist with your marketing goals, please contact us today. We look forward to hearing from you.
~Emma G.
TOVO Advertising + Website Design  
*Sources:
Design Web Ledger
Graphic Design Junction
Creative Bloq
Shopify
Google Developers