Winning this prestigious award again in 2017, we are honored to land in top 15% of all design submissions for the 2017 Graphic Design USA Web Design Awards.
Seaside Sisters: 

These Florida siblings started Seaside Sisters, a personal styling company in 2013. Kerry Caruso and Colleen Schramm are using their talents to style the best and brightest women and men in our area.
Using their existing brand for inspiration, we designed the site using bright sea blues and grays, lending to a simple paneled, easy-to-navigate brochure-style website that lends itself to both women and men looking for personal styling services.
Lekithos: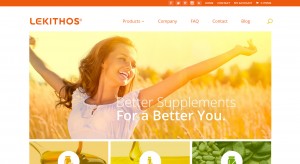 Located in South Florida, Lekithos' goal is to provide healthy, high-quality neutraceuticals for individuals and small businesses. The company offers conventional and organic proteins, oils and lecithin-based products to their consumers.
The new website design is bright, warm and friendly. Their three main product categories are highly visible on the home page, and checking out is a breeze. Responsive coding makes ordering from your phone simple. More details on our work with Lekithos can be found here.
A big shout out to our wonderful clients. Thanks for allowing us to get creative. We owe it all to you!
TOVO