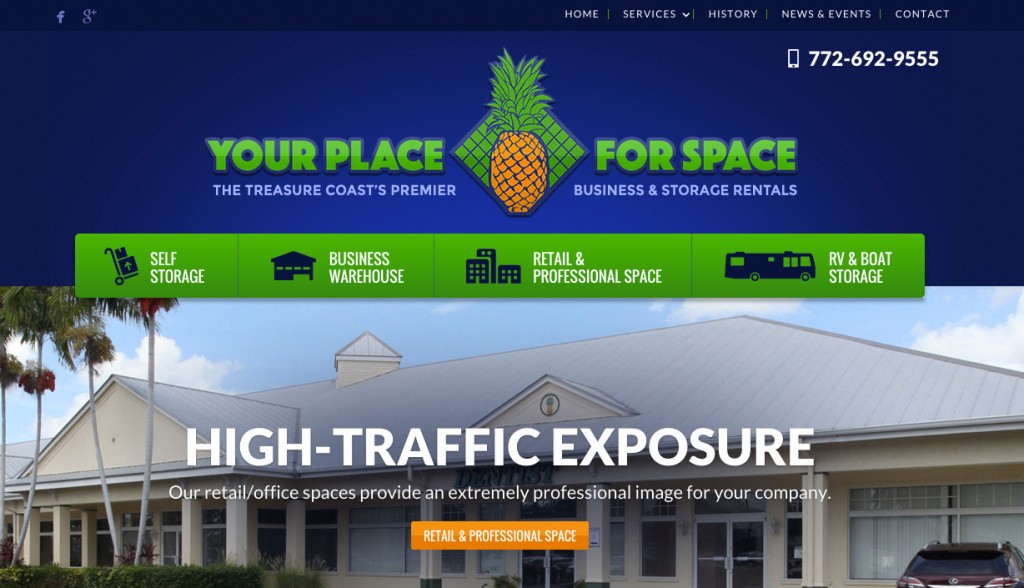 In late 2015 we were excited to launch a new responsive website for Your Place for Space, a local self storage, retail office and warehouse facility leasing company in the Treasure Coast.
When we met with the Satur family, they were currently managing 3 separate websites for their locations throughout the Treasure Coast. Needing to streamline their process, they contacted our team for help.
We started by refreshing their brand and added a tagline to their existing logo. We used dark, bold colors and large imagery for their website design to entice visitors to learn more about the locations available and the company. The new site combines their Palm City, Fort Pierce and two Stuart locations into one easy-to-navigate website. Prospective customers can view the facilities, rates and contact the company for availability.
On the back end, we coded the site to be mobile-friendly and created templates so staff can easily add new units when they're available. Contact forms take the place of outdated mailto links, and their phone number is prominently displayed on the home page (click-to-call).
You can view the site here: https://yourplaceforspacefl.com
Please contact our team if you're thinking of restructuring your self storage website.
TOVO.